About Us

Hi, I'm Mo Johnson, U.S. Army, Retired. I started building websites in 2006 and now have seven of them. Land of Snow is the latest. I actually bought the site in March 2010 from someone who lived in Montreal, Canada. He had done a great job building the site but didn't have time to continue with it. Since taking over I've continued the great focus on Montreal, but also added lots of additional content about all things snow related, especially ski resorts.

The reason I bought the site is simply because I love snow. I always have and always will. So, what could be more fun than building a website about snow?

When I was a kid I followed the weather in the winter like no one else. Well, actually there was one other kid in school who was crazy about it like me. But, I was more crazy. This was before internet and cell phones so getting updated weather information was not so easy. But, I remember in high school (when they were calling for a snow storm) -- I would sometimes sprint out to my car between breaks in classes just to listen to the radio for updates on the incoming storm.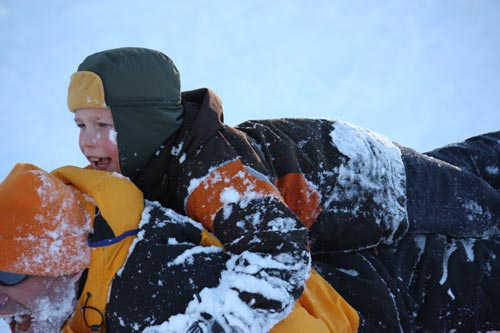 Me and My son sledding in Snow.
---

I grew up in the northern suburbs of Washington D.C. (Montgomery County, Maryland) and so more often than not I was disappointed in the storm. It usually missed us just to the south or slipped to the north (in which case we usually got the "warm side" of the storm -- meaning RAIN!) Nothing worse than a cold rain because you know you are so close to having wonderful snow.

Anyway, I could go on and on about my snow fanaticism, but I'll spare you. People said when I grew up I would change and learn to hate the snow. That when I had to commute to work and be responsible for shoveling it, etc -- then I would come to see snow as my enemy. Well, sorry, that has never happened. I'm 44 now and love snow as much as ever.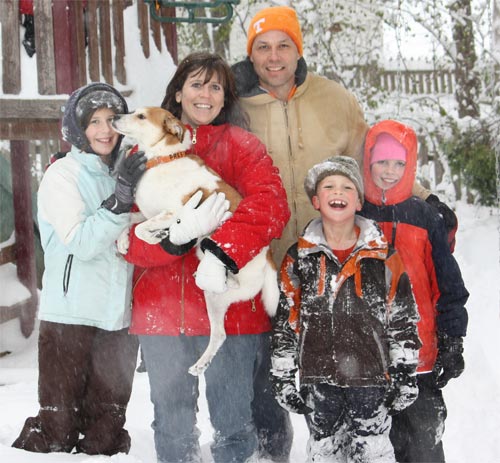 Me and My Family in our Backyard after the 2010 Snowmageddon in Virginia.
---

Oh, I have a wife and 3 kids as well. They generally like the snow as well. Not as much as me, but still, they are fans too.

OK, if you want to contact me, go to contact us. If you are interested in advertising on this website, please visit Advertise on Land of Snow. Thanks for visiting the site and
THINK SNOW!!!

p.s. In case you are interested, my other websites are:
SEC Sports Fan
SEC Talk
Best All Time Sports
Free Living Trust Information
Estate Planning Hub
Prince William County Virginia Info
And, if you wonder how I possibly find time to build all these websites while remaining happily married and raising a family and working full time -- well, the answer to that one is 3 letters -- SBI. You can check them out by clicking on this graphic:
Please support this website by purchasing products you need using the search box below. Just type in what you are looking for, click "go" and you'll arrive at Amazon.com. We'll earn a small commission on anything you purchase on that visit. It will help us keep this site going and growing and not cost you any more than you would have paid anyway. Thank you for your support!