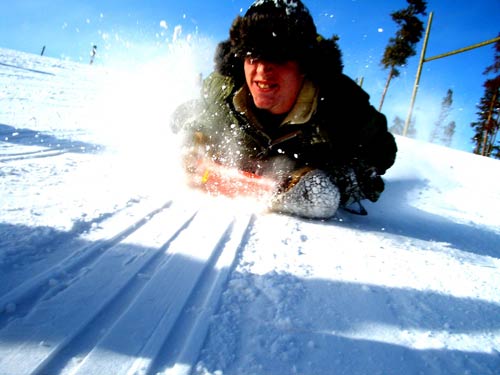 Snow Sliding.
Snow Sliding Memories
Me on my snow sled speeding down the snowy hill of my parents' backyard.
I have many fond memories of this classic Canadian winter pass time.

I can clearly remember how excited I was for that first winter snowfall.

There's this period between autumn and winter that seemed to go on forever.

Too cold for me to use my bicycle, and not enough snow to build a snow man or go sliding. The wait in-between seasons felt like an eternity.
Fast Forward to Winter 2007-2008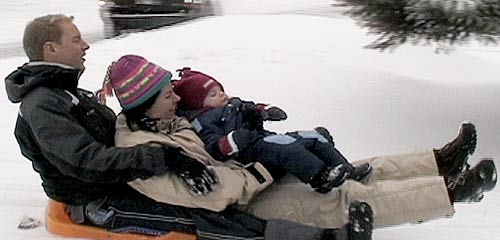 Family on Snow Sled.
Snowbank Sliding Hill and Tree Sliding Hill.
I pulled out the plastic sled last year. It had been a couple of years, and I instantly realized how much I had missed it.

Here's a brief clip of the experience.


It certainly felt great to go snow sledding again.

That's me and my wife introducing our son to the joys of a snowy Canadian winter.

The snow bank in front of our home created the perfect sized snow hill.

As you can see, a good time was had by all. Free outdoor winter fun, literally just outside our front door.

Later in the season we decided to be a little more ambitious, as we tried some bigger hills.

If you've never been, this brief montage should give you a sense of how much fun it can be.
Have A Great Story (or question) About This Winter Activity?


Do you have a great story about this? Share it!
---
Snow Kiting | Ice Skating Rinks | Snow Tubing | Winter Vacations |
---
From Snow Sled to Winter Activities For Children And Adults | Land of Snow Blog | Montreal | Winter Survival | Maple Syrup | Pictures of Snow | Snow Blogs | Review of Snow Blowers | Ski Resort Reviews |
---
Home Page

About Us | Contact Us | Advertise | Site Search | Terms of Use |
---