Top 5 Sports on Snow

There are several great snow sports. Snow is an ideal terrain for a host of competitive and recreational activities. Here are the top five sports that are played on snow.
One of the most popular snow sports is Skiing. Skiing was invented thousands of years ago and its popularity has never waned. Skiers can get an adrenaline rush skiing down a mountain or test their endurance with a cross country trek. In recent years, heli skiing, or helicopter skiing, has become popular. Skiers are transported by helicopter to specially selected remote locations. Many avid skiers are attracted to this type of skiing because they can ski through unspoiled white powder that is difficult to find in crowded ski resorts.

Another similar sport is Snowboarding. Snowboarding does not have as long of a history as skiing, but acceptance of it has grown steadily. It was created in the United States in the mid-twentieth century. The sport was partly inspired by skateboarding. Snowboarding was added as a Winter Olympic Sport in 1998.

Sledding is another major winter sport that is popular in northern climates. Like skiing and snowboarding, sledding's major attraction is the excitement and adrenaline rush of moving downhill at high speeds. Competitive sledding is also practiced in many countries. Some versions of sledding, such as luging and bobsledding, are featured in the Winter Olympics.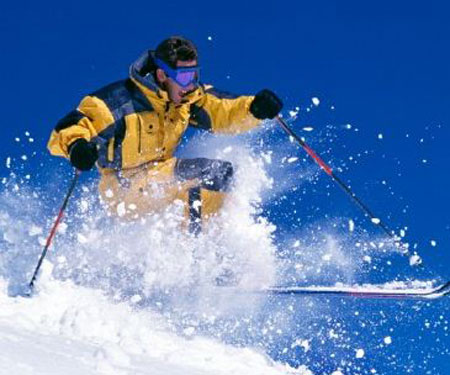 Skiing at Snow.

Snowmobiling has developed a strong following as a recreational snow sport. Snowmobiles were originally invented as a practical mode of transportation for isolated northern communities, but snowmobiling has evolved into a popular "just for fun" activity. There are also several competitive snowmobile racing competitions that are held annually throughout the world, including the International 500.

The last and most obscure of these five winter sports is snow Rugby. This form of rugby is played in Afghanistan, northern Europe, Canada, and some parts of the United States. It is similar to conventional rugby, except that it is played in deep snow and the players wear heavier attire due to the harsh elements.
Have a Comment?
Do you have a comment about something on this page? You can make it here and others can comment on what you say.
From Top 5 Sports on Snow to Winter Activities For Children And Adults
---
Home Page | About Us | Contact Us | Advertise | Site Search | Terms of Use |
---