A winter blizzard is made up of three factors, you must have low temperatures, strong winds and heavy snow. The only difference between a blizzard and a snowstorm is the strength of the wind. Another variation of a blizzard is a ground blizzard, this is where the snow that's already on the ground is blown up by strong winds, much like a dust storm. A winter blizzard can cause near white out conditions and bring entire regions to a stand still for days at a time.
This year, 2010, was a big year for blizzards with three major storms hitting the U.S. The first blizzard of 2010 was part of a storm that came inland on the west coats February 1st. It moved across the U.S. and moved out to sea on the east coast February 6th. It then turned north and then hit eastern Canada.

While true blizzard conditions from this storm were reported only in Maryland, deaths on the other hand, were reported in Mexico, New Mexico, Maryland and Virginia. Large portions of the Mid-Atlantic region were reporting near blizzard conditions with many areas receiving twenty to forty inches of snow.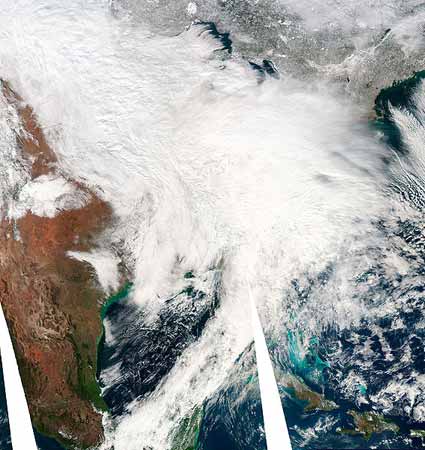 A massive snow storm moves through much of central and eastern United States on February 5, 2010. Thanks to wikipedia.org for the picture.
---

Three days later came the second North American blizzard that was part of a winter storm occurring between February 7th thru 11th. This storm hit the Midwest, Mid-Atlantic and the New England regions of the U.S. With this storm came another twelve to forty inches of snow. Forty mile an hour gusts of wind were common with this storm causing blizzard conditions in Virginia, Maryland, Delaware, New Jersey, New York City and Washington D.C. Near whiteout conditions in Virginia were the cause of a fifty car pile up on westbound I-64. There were three fatalities blamed on the storm.

The third North American blizzard of 2010 occurred later in the month of February, the 24th-26th. This storm hit the Mid-Atlantic and New England areas. Up to thirty six inches of snow, along with winds over forty miles an hour, caused blizzard conditions in New England, New York and Pennsylvania. In New York snow caused the closure of I-84 for about a forty mile stretch. Two deaths were reported due to the bad road conditions.
Full force of storm in community of South Riding, Virginia, on February 6. View is facing East toward Route 606, Loudoun County Parkway. Thanks to wikipedia.org for the picture.
---

One of the worst winter blizzard on record was the Great Blizzard of 1888. This one caused four hundred fatalities. It occurred from March 11th thru March 14th and caused a quarter of a billion dollars in damages, that's money valued in 1888 dollars. The storm did the worst damage in New Jersey, New York, Massachusetts and Connecticut with a combination of forty five mile an hour winds and forty to fifty inches of snow. There are reports of thirty to forty feet snow drifts covering three story houses.

Another famous winter blizzard occurred during the 1993 Storm of the Century. This storm is also named '93 Superstorm and Great Blizzard of 1993. This storm was huge is size reaching from Canada to Central America. The Florida Panhandle reported about four inches of snow with hurricane force winds. This storm occurred between March 11th and March 15th and was blamed for 300 deaths. The heavy precipitation and strong winds caused blizzard conditions in most of the twenty six states that were affected by the storm.

The largest amount of snowfall during this storm were in Mount Le Conte, TN with sixty inches, Mount Mitchell, NC with fifty inches and Snowshoe, WV with forty four inches. When that much snow is combined with hurricane force winds you have the makings of a winter blizzard that will never be forgot.
Have A Great Story (or question) About This Winter Activity?


Do you have a great story about this? Share it!
---
Driving in Snow | Shoveling Snow | Snow Shovel | Why Does Salt Melt Ice? | Winter Driving |
---
From Winter Blizzards to Winter Survival | Land of Snow Blog | Montreal | Winter Activities For Children | Maple Syrup | Pictures of Snow | Snow Blogs | Review of Snow Blowers | Ski Resort Reviews |
---
Home Page

About Us | Contact Us | Advertise | Site Search | Terms of Use |
---